Merlin 'a cool dude' M and DHS Comix what is also really Merlin anyway presents:
Cat Contest!
Er, but not really a contest. Or about cats. Well- anyway
This is a felimara
Felimara are sort of flying cat dudes. They have horns and wings what grow larger and more impressive as they win fights.
Cowlicks!

They often got a few scars and things, too. But most importantly, they also have big fluffy tails and hilarious mohawks. Except for the little kittens, which are like, over there on the right.

Righto, so what's my point? Well now, I am writing a Random Encounter comic what will have a lot of these fellas, and I'm like 'hmmmm man I don't really wanna design a bunch'a cats'. Effort and all that! So here is the thing: I am looking for felimara designs.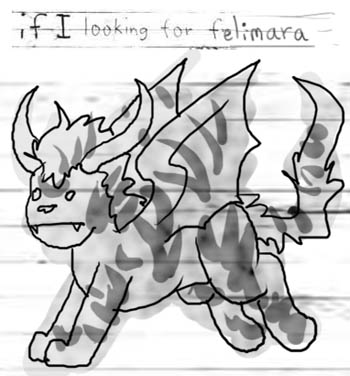 if i looking for felimara him name too lazy to design
Mainly for minor characters! Actually pretty much entirely for that. These dudes ain't likely to get a speaking role, and if they do, they're likely not going to get one that involves their name! So I'm ok if you name them or not, but if you do name them, the general felimara naming standard is stupid, stupid, stupid. Things like 'Skysh', 'Snatch', 'Starch', 'Keche'. I dunno, but it's generally one dumb-sounding syllable with a long vowel sound in the middle.
Now I don't mind if you design me a dudecat or a ladycat! I'm looking for either, and for some kittens, some adolescent kitties and some adult cats! And I don't mind if you design one by editing one of the pics on this rambly page, though something drawn yourself would be preferred because then you can do some really rad manes and stuff. But whichever! It's all good, mang.

Handy reference chart! It has words. I hope it describes sufficiently.
As for the markings, mostly felimara have ones similar to housecats, and their markings extend over their wings. So nothing outrageous and bright pink with rainbows! Mainly browns, oranges, whites, blacks, greys, in stripes, mottles, spots, patches, solids, masks, socks...haha, you know, kitty colours.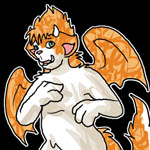 I can't go to jail, Ricky,

who's gonna look after

my kitties??

Ah yeah, also felimara got two forms: regular giant kitty, and two-legged looking guys - but don't worry about it since they're very similar. If you just draw me a kitty with the markings laid out so's I can see 'em (and fluffy manes, tails, wings, whatever!), then that would be SUPER SWELL.

But what's in it for you...? Well now! Give me your name/handle and if you like a website/online gallery link and I'll put you right up there in the credits page of the volume. Not too exciting, I know, which is why also.... Art trades! Draw me a cat, I'll draw you a thing. Like, a smallish full-colour pic or slightly larger monochrome sketch, probably nothing super complicated, but tell me what you want, yesss.

all my kitties so far... uh... yep.
FAQ
FAQ NOT REALLY RELEVANT ANYMORE. CATS IN VOLUME 7. I GUESS I'LL JUST LEAVE THIS PIC HERE: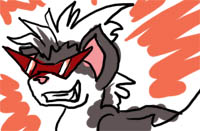 ENTRIES ARE CLOSED ACTUALLY shoulda mentioned that earlier whoops
HERE IS YOUR MOTIVATION: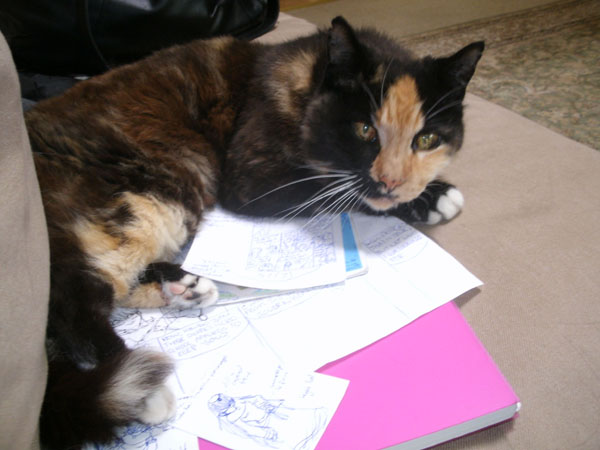 oh grossss she is drooling
CURRENT ENTRIES and COOL DUDERS
YAY ENTRIES MMMMMM
SHAUNI THE SHAUNI
BY SHAUNI
CARMEN
IS
SUPER INSANE AWESOME
CARMEN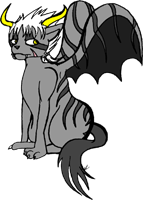 YYAAAAAAY CAT
BY SAPPHIRE LIGHT
(
ALSO THIS
)