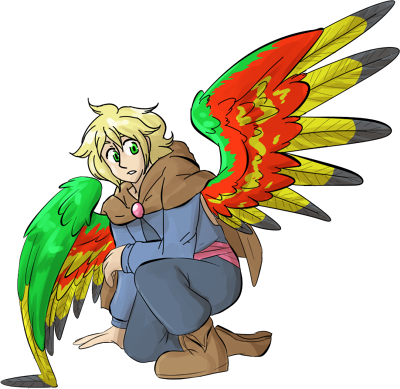 Name: Martelle Fones
Nicknames: 'Telle, Mar Mar
Classification: Archer
Age: 15
Gender: M
Species: half-feathry, half-human
Roomate: Larkin Matapang
Family: Ryder (father), Cadence (mother), Vega (younger sister), Ember (Cousin), Annaliese (Cousin)
Character: Martelle is an incredibly reckless person. He doesn't put a lot of consideration into his thoughts before acting on them. He can be very emotional at times, which often makes him act irrationally in tense situations. He's mostly empathetic towards people who are most vulnerable to being bullied or harassed, though he makes an exception for tricksters, who he very much dislikes.
Because of his emotional nature, Martelle is easy to manipulate and very gullible. He has a habit of putting blind trust in people up until the point they do something to wrong him or others he cares about. He's not above using violence to solve his problems and tends to get in fights fairly easily, though he's not very good at close ranged combat, due to that fact that he doesn't really think while he's fighting.
When he's not hurling himself into stupid situations, Martelle tends to be relaxed and lazy, often slacking off on homework and studying. In his free time, he can often be found napping some random place on campus and this does make him an easy target for tricksters. Despite getting low grades in many classes and finding himself the butt of a some pranks, he doesn't really seem motivated to correct any of his bad habits.
History: Martelle's story will be told in Dhark's Hero Stories, Volume 4.
Martelle and his sister grew up in a Feathry-Only town. Their human mother was one of the rare exceptions to the elitist bullcrap that feathries tend to have, though this doesn't really mean she was properly respected, though generally, most of the town scorned the family. Martelle was usually bullied and beaten by other feathry kids. He became very protective of his younger sister and often threw himself in harm's way to make sure she wouldn't suffer the same as him.
Originally, Martelle wanted to run away from his hometown to DHS so that he could escape all of his problems. In the end, he didn't have to run away, but he's not exactly thrilled that his cousins came with him to hero school.
Triva:
He falls asleep very quickly, very easily, and this can happen just about anywhere.
Martelle is actually capable of flying, if only for a short period of time.
Martelle wants to one day be changed into a full-feathry.
Index > Dhark's Hero Stories > Characters > Martelle Fones