Comic for Monday, 25th of January 2021 will be delayed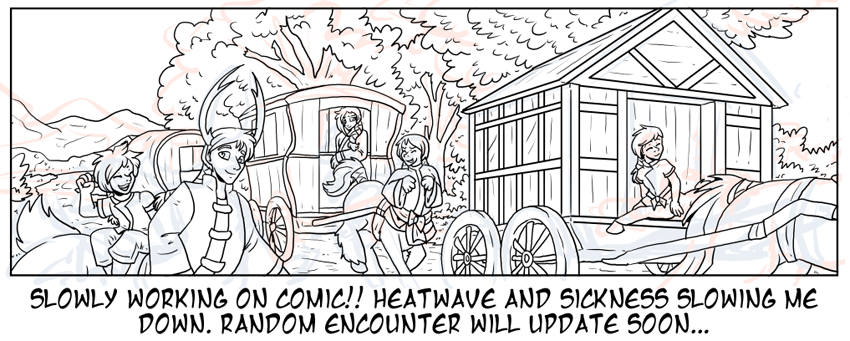 Other comics:




Updates:
(GMT+10 timezone)
---
Monday 25 January
Random Encounter will update today SO HELP ME
I was actually ahead for a change but then the heat today knocked me right the heck out... I feel terrible haha... hopefully I can sleep and get up early to finish it up before the heat really sets in again. Not that it's going to be particularly cool overnight but uhh I'll try my best
---
Sunday 24 January
Here's today's The Breaking update! I have to double-check my notes but pretty sure this is the second-last volume. Which.... as long as The Breaking volumes are, prolly doesn't mean much, haha.
---
Saturday 23 January
I got a comic done!! Here's this week's Fall update! With Xav, the god of tattoos, who was designed by Keej! There you go. Tomorrow there should definitely be a comic since I realised it's just the title page for the next volume, ha ha... hopefully that means I can try to get some work done on Random Encounter..
---
Friday 22 January
No comic yet again sorry!! I've been off work all this week, but despite that, I'm busier than ever.... I really must get the next Random Encounter page done, as well as the weekend comics, since I missed them a lot latelyyyyyy... I am hoping that for once tomorrow will be the day I don't have anything else to do and can actually like, draw.
---
Thursday 21 January
Sorry! Still busy and unwell BUT FINALLY... I have the last two pages of the current Death's Door volume! Starting from here! Aaaand I also recoded the archives page to display per-volume like most of the other comics, because eventually there will be more volume or volumes! I feel bad leaving Morticia on such a sad note. Maybe I can make it a sadder note oh no I mean a less sad note
TOMORROW: HOPEFULLY A COMIC SHEESH. And then next week I'll start the comic that'll be updating on Wednesdays which will be Darkness Falls!! I even updated the schedule so hopefully I also don't change my mind by then though
---
Wednesday 20 January
Ah.... after being busy most of the day I got home and then my stomach started acting up again so comic... will be a mite late. I'm gonna do my best to have it up today or tomorrow though!! I want to get this done this week!!
---
Tuesday 19 January
Alright!! Here's today's Mysteries of the Obscured update! Oh yeah I also finally got the latest Random Encounter page coloured haha...
UMMM unfortunately I'll be a bit busy tomorrow, but hopefully I can get lots of Death's Door done anyway?? Maybe??
---
Monday 18 January
Slowly is the word I guess, because I ended up working on a ton of other things that weren't these comics and so actually there's no comic update today. Hopefully there will be one tomorrow, though!!
---
Sunday 17 January
Sorry!! I ended up spacing out all morning so things are a little late! So I've got the rest of that Short Shift volume! As I said, very short, just like the last story with those two it's another one-page story but it's funnier to have a title page and back cover page when it's short, haha.
If I've got time I'll update Random Encounter tomorrow, otherwise, uh, I'll update another comic!! I am now free from responsibilities so I should be able to draw a little bit more, but I have to slowly get back on track with things, so yeah, we'll see what happens!
---
Saturday 16 January
Comic will be up slightly late, I'm having a sleep and will finish and post it in the morning...
---
Friday 15 January
Here's a comic!! Well, a title page for a comic?? So I was thinking about what to post tonight, and then I thought of a very short, silly little Short Shift volume! ...but then I was tired and I've got a lot to do at the moment, so I thought hey how about I just take a little break and post this over the next few days (it's a super short one!!!).
I actually have a LOT of Short Shift volumes written, but I'm trying to work on them slowly and save them up for when I'm recovering from skull surgery later this year. SO FOR NOW... a fox! I'm hoping that next week it won't be so hot and I'll have a lot more spare time and hopefully won't be too sick and then, finally, I will get back on track with comic updates!!!!
fingers crossed...
---
Thursday 14 January
I did it!! First I'm Not a Trickster! update of the new year! Hmm, getting the feeling we'll see more of that one-winged feathry a bit later...!
And uh, for tomorrow's update... not sure what I'll have! I'll at least finally colour that Random Encounter page, but with this heat I'll probably not have the next page ready, sorry! I'll see what else I can do though. Maybe a Merc or a Snorse update???
---
Wednesday 13 January
Too hot to draw.... send help... also ended up being super busy, sorry!!! I'm going to skip Death's Door's update this week, and aim to make it a double-update next week to make up for it!
I'm gonna do my best to update I'm Not a Trickster! tomorrow though, given that I skipped it last week. I'll try!! It's going to be hotter tomorrow so it'll be... tricky. But I'll do my best!!
---
Tuesday 12 January
Here's this week's Mysteries of the Obscured update! I'm a bit busy this week and it's super warm, dang summer finally arriving... so comics might be a bit delayed this week! But I think my stomach has finally settled down for a little bit so there's that. And hopefully I can get Death's Door done for tomorrow cuz hoo boy so close to the end of the volume and then I can work on another comic aaaa
---
Monday 11 January
Well, it's been a bit warm to work on comics today, so Random Encounter's still not coloured. But I decided to make up for missing The Breaking before, so here's a double-page update for The Breaking! That caps off this volume, so at least next week's update will be simple with a title page, haha.
---
Sunday 10 January
Alright!! Random Encounter's not yet coloured and The Breaking is late, but here's this week's Fall update! Because it's never not a good time to draw cranky Ceraph!
So my plan for tomorrow is to update The Breaking because it's very late!! I probably will skip on Random Encounter (feelin like the next page is gonna take me a little while), but I'll try to at least get yesterday's page coloured.
---
Saturday 9 January
Clearly I jinxed myself by saying I was on the mend, because tonight my stomach is very feisty. I am optimistic it will settle down soon though... For now, here's that Random Encounter update! ...but uh, just missing colour for now, I'll have that up hopefully later today but otherwise by Monday!!!
---
Friday 8 January
On the mend now, so slowly working back on comics!!! I was hoping to do a lot more today than I did, but I got a good start on today's Random Encounter update, I'm gonna work hard tomorrow and get it posted!! ...Instead of being about Delta or her family though it's going to be about these two putzing about. Because that's fun for me to work on, haha.
Thennnn I just need to get the weeeknd comics done!! I'm feeling like I can do 'em, though Fall will likely be slightly delayed since I'll aim for Random Encounter tomorrow, ok!
---
Thursday 7 January
Yeah, no update today, unfortunately! I was so unwell from my chronicc stomach condition that I ended up getting gastritis, which I'm now slowly recovering from. There maaaayyyy not be a Random Encounter update tomorrow, but erm, I'll try to have something done.
---
Wednesday 6 January
I am suuuuper sick. So my money is on, no comic tomorrow. But today I really wanted to get a comic done, so here's this week's Death's Door update!
So close to the end of the volume like I said... which. Hey. I said end of volume not end of comic... because I'm once again thinking I should do another volume of Death's Door lol. We'll seeeeee. Either way it'll go on hiatus once this volume is done so I can work on something else. And that something else will be... Well at the moment I'm thinking Darkness Falls, but I do change my mind a LOT at the last second so we'll see haha
---
Tuesday 5 January
Here's today's Mysteries of the Obscured update! Back to the regular issue. The holiday issues are available from the archives page for nowwww.
Still super sick, looks like updates will be hit-and-miss for the next two weeks unfortunately. I hopefully can update Death's Door tomorrow though, so close to the end of this volume...
---
Monday 4 January
Well.. I ended up being much too unwell to update yesterday, my stomach is givin me hell. Dang stomach. But I'm back with the title page for the new Random Encounter update!
---
Sunday 3 January
The Breaking is going to be a bit late, but I'm hoping I can get it posted later in the day!! I'm pretty close to the end of the current volume so that would be good... Otherwise I'll be back with the Random Encounter title page tomorrow then ;V
---
Saturday 2 January
Happy new year I'm tired so today's comic will be a little bit late haha
I'll try to get it done in the morning!! And I decided the holiday issue is done and we'll be back to normal updates!
Late edit: here's today's Fall update!!! I might continue to be late on updates for at least the next week though, I'm very sick and tired and busy. But I'll do my best!
---
Friday 1 January
Mysteries of the Obscured has updated! Happy new year! May this year bring you more joy and much less stress than the one before.
---
Thursday 31 December
Here's today's Mysteries of the Obscured update! Tzitta finally gets to the root of the matter. Aaaand we're nearing close to the end of this story, just two pages left! And then very shortly after that my break will be over and I need to like. Get some things sorted out. Frarghjhjht
---
Wednesday 30 December
Horribly unwell and unable to sit up most of the day so uh... comic's gonna be slightly late!! I'm hoping I'm well in the morning and I'll get it posted then. Sorry about that!!
Late edit: Mysteries of the Obscured has updated! I'm still a bit sick today so I'm taking it slow BUT YEAH THERE'S THE PAGE
---
Tuesday 29 December
Here's another Mysteries of the Obscured update! Good thing these are just lil comics because I'm mad sick today and wouldn't have been able to manage drawing much more than this, haha...
---
Monday 28 December
Time for today's Mysteries of the Obscured update! Tzitta is pretty much me. Being lazy is awesome.
---
Sunday 27 December
Here's today's Mysteries of the Obscured update! To be fair, that was Tzitta's plan for the day regardless.
The problem with having a fun trickster like Tzitta is, now I want to draw more comics about Tzitta and her many many illusions...
---
Saturday 26 December
Right!! I got the two pages done, so here's page one and page two of the Mysteries of the Obscured holiday comic!! Yeah, I'm gonna take it super easy this break, it's been a zany month... I need a big lazy break after how this year been in general I think, so most of the rest of the pages are gonna be single-panel pinups! It's a fun change for me, mwahaaaaa
---
Friday 25 December
Having a nice lazy time!! So here's the title page of this year's holiday comic, it's Mysteries of the Obscured! And uh, I put it in the lil extra archives for now alongside the Halloween volume, and then they'll go in the main archive when the normal story issue that goes before them is like. Actually finished. Yeah!
If I can I'll do a double-update tomorrow, cuz I'm a lil behind on where I wanted to be. But if I can't, then... I won't! And I'll just toddle along with the rest of the holiday comics.
---
Thursday 24 December
It's done!! I did the thing!!! Today's Random Encounter page start with the options for yesterday's page, and then goes to the end of the volume!! Volume done, that was a fun very short interlude, now it's time for SLEEP.
And tomorrow, time to start HOLIDAY MODE and I'll (hopefully, if I got the time :V) begin posting a short Mysteries of the Obscured holiday issue!
Happy Holidays!!!
---
Wednesday 23 December
Well, I was planning on doing a large number of pages today, but uh... I ended up being super tired! So for now here's just one page of Random Encounter!
I'm gonna do my best to get this volume finished tomorrow though!!! So I gotta get some sleep so I can do so...
---
Tuesday 22 December
Alright!! Hopefully my script doesn't have too many bugs in it, because it's time for a new Random Encounter update!! By which I mean like, hey! I added the options for the page I posted yesterday! Pick a choice and follow through and then... there'll be more comics tomorrow!!
I miscounted yesterday though lol, there's only two lil choices in this volume. Because I didn't want to bite off more than I could chew with this fun little test! But YEAH! I'm gonna try really hard to get the next choice and all of it's options posted tomorrowwww. And then there's only one short segment left, and then I can finish this lil thing and get on with the holiday volume!!
We'll see what I actually manage to get done though haha, there's a lot more pages for the next choice.
---
Monday 21 December
Yeah last week ended up being fairly mad. So here's a Random Encounter update!! Aaaand there's the first choice in this choose-your-own volume. As you can see, the pages are gonna be a bit simpler than a regular Random Encounter volume, cuz there's gonna be a whole lot of choices! Or like. Three choices. It's a lil filler volume, anyway ;v
So!!! I still need to like. Code the stuff to make the choices work. Because which choice will it be?? It's both! I'm gonna make it so you can choose your way through the volume.
SO. Uhhh I think I'll update this Random Encounter volume until I decide it's time for holiday break, which will beeee the 24th! At which point I'll update the holiday story instead, which will be Mysteries of the Obscured.
Tomorrow then... will be... one of these choices?? Both of these choices?? That's a hard choice idk lol :V